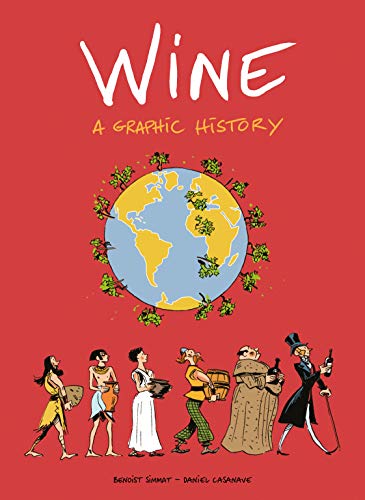 The history of wine is nothing less than the history of civilisation. It is the religious drink par excellence — from the Ancient Greek god of wine, Dionysus, via the vineyard Noah planted after the Flood in the Old Testament, to Christ's miracle at Cana. In the monasteries and churches of the Middle Ages, the syrupy drink of antiquity, unpalatable if undiluted, was transformed into the wine we know and love today. Oenophile Benoist Simmat and artist Daniel Casanave tell the story of wine from its origins in the Mediterranean to the globalised industry of the 21st century. Tracing the innovations that have accompanied this ancient art and science, from oak-barrel ageing to the invention of the bottle, Wine: A Graphic History will leave readers with a fresh and full-bodied view of our own drinking culture.
Ordina ora!
Informazioni sul libro
Born in 1963 in France in the Ardennes, Daniel Casanave earned a diploma in the fine arts in Reims, and divides his time between illustration, scenography, and graphic novels. Casanave's work is wide-ranging, from children's books to press cartoons. He lives in France.
Benoist Simmat is a journalist, essayist, and scriptwriter, and the author of thirty books. A wine specialist, he is a long-time contributor to La Revue du vin de France.
Disclosure of Material Connection: Some of the links in the page above are "affiliate links." This means if you click on the link and purchase the item, I will receive an affiliate commission. I am disclosing this in accordance with the Federal Trade Commission's
16 CFR, Part 255
: "Guides Concerning the Use of Endorsements and Testimonials in Advertising."